George in the Cirque du Soleil giftshop outside the O show in the Bellagio Hotel. It was fantastic!!
The ceiling of the theater was so beautiful!

Even the curtains were a work of art! The opening of the curtains was worth the price of admission!! We can't recommend this show enough, brilliant!

After O, watching the dancing waters at The Bellagio.

The incredible tile work inside the new Wynn Vegas. We walked in about 30 minutes after it first opened.

Margareta was playing in The Baccarat Lounge.

This was actually Friday as we were taxiing to the runway to head back to LA.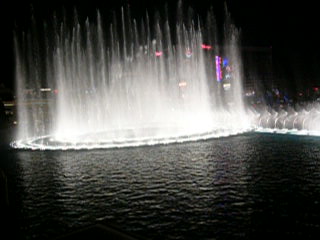 The dancing fountains outside The Bellagio. 2.2 Megs.